compostability of common items
what's compostable? what's not? we've done the research.
these are just some of the harder-to-answer questions we've encountered in our composting endeavors. remember: we're referring to commercially compostable items. please do not compost ANY of the items below in a backyard compost pile setting!
we'll try to keep this page updated - check back often!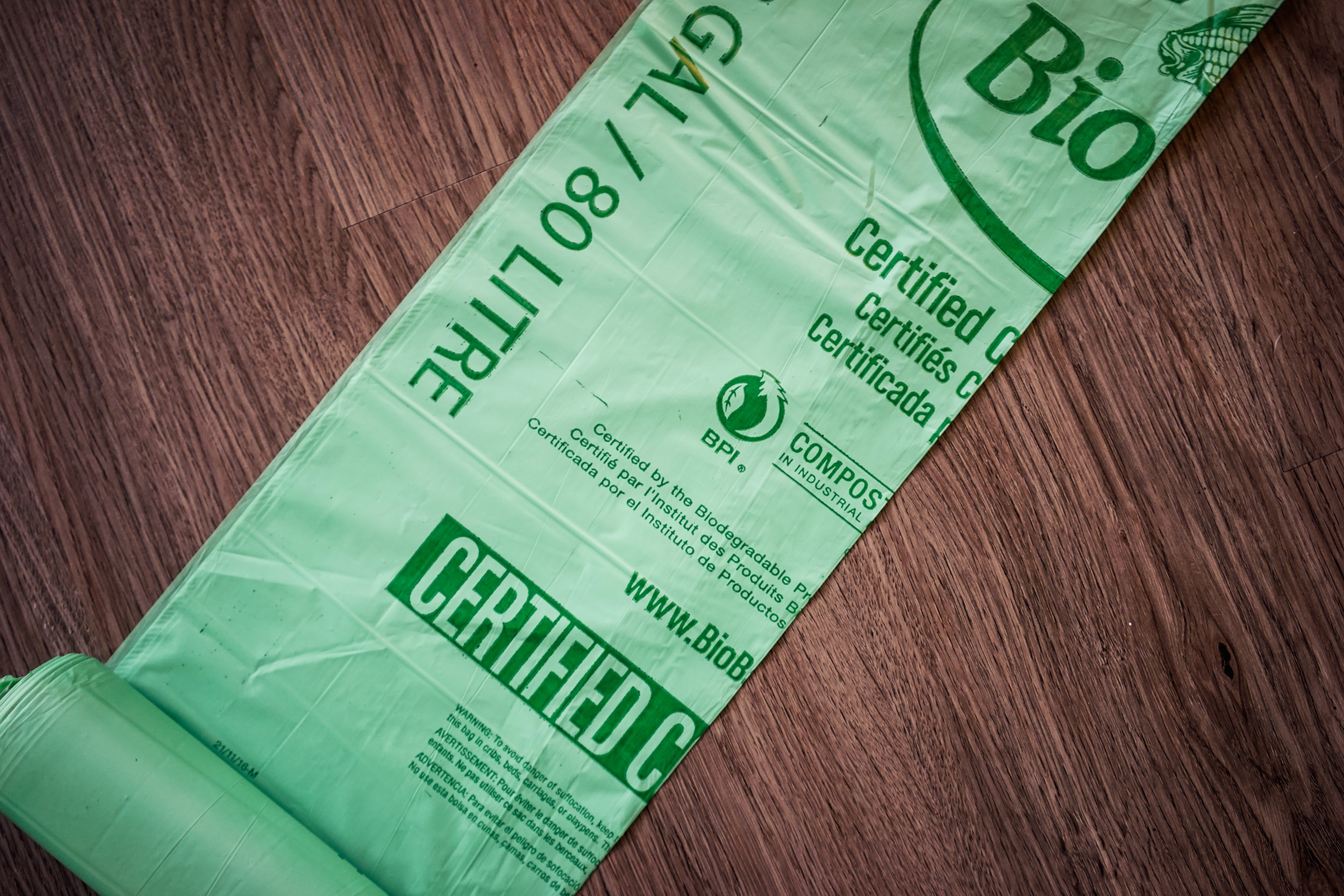 There are lots of brands of compostable bags (or liners) out there. This photo happens to show a BioBag brand liner, but there are also brands like: World Centric, Natur-Bag, EcoSafe, Green Earth, and others. Some bags are better than others for different jobs and at different sizes. What's important: make sure the bag you choose is CERTIFIED compostable by BPI or Vincotte ("OK Compost" label). A bag that is "biodegradable" is NOT compostable.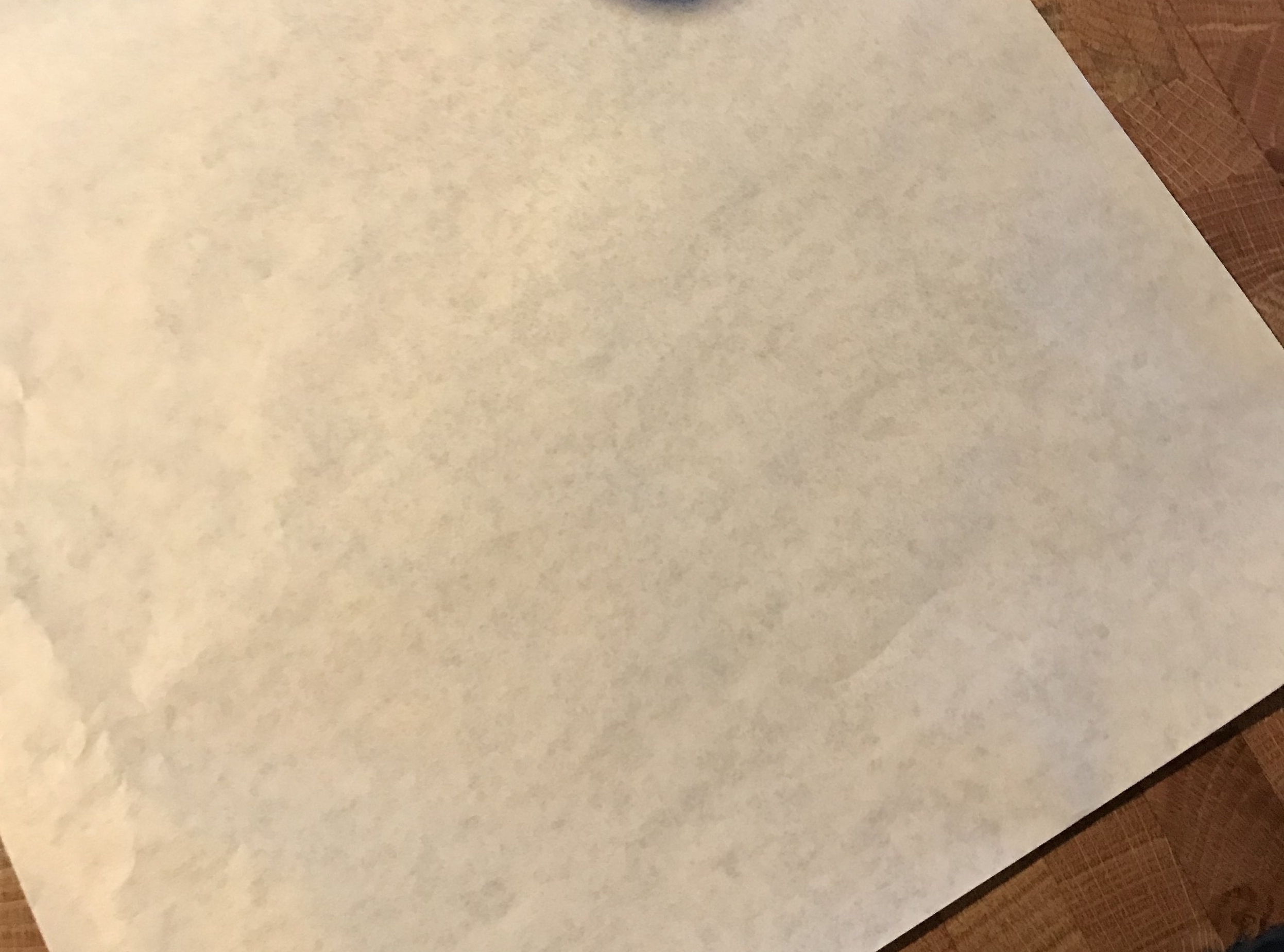 There are a lot of products in the "wrap" category and it's tough to know anything definitive about them (since they typically aren't BPI certified). For "deli paper" or "deli wrap" type paper that isn't waxed (which you can tell by trying to scrape with your fingernail), a good test is to line a cup with the paper in question, pour in a little bit of water without getting the inside of the cup wet, and check in an hour to see if the water has soaked through. It's not entirely definitive, but if the water soaks through, it's definitely OK to compost.
There's a category of "greaseproof" deli / wrap paper that's also compostable, because it's basically supercalendared, or super-compressed paper, known as "glassine." Unless it's glossy on one side (like the wrap the butcher's department uses at Whole Foods, for example), we generally think it's okay to compost, even if it doesn't soak through in the above-mentioned cup test.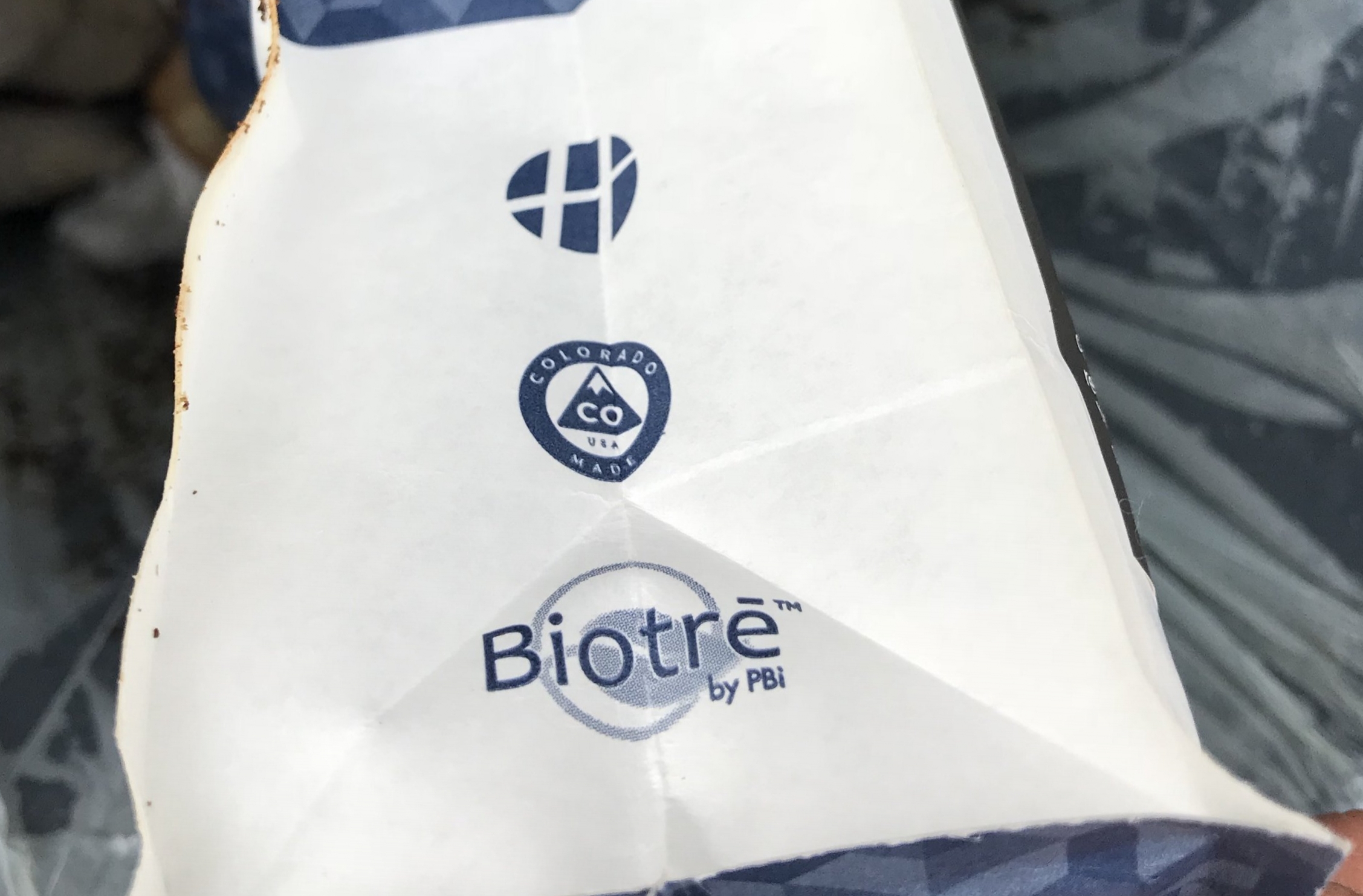 We LOVE coffee so we hate to say this, but it's pretty darn hard to find a truly compostable (or even recyclable) coffee bag. These Biotre bags by Pacific Bag are unfortunately made from 60 percent compostable material...and 40 PERCENT PLASTIC. While the description claims it will "disintegrate significantly faster" than other plastics, what that actually means is that it quickly turns into very, very small bits of plastic. We don't want that in the compost pile!
The same goes for the claims in the images below. The term "omnidegradable," for instance, refers to a standard for plastic breaking down over time. The term does not mean that plastic particles break down into small enough pieces that they can be consumed and completely decomposed by microbes, i.e. that they are compostable.
Coffee bags have to have a vapor barrier, so there is plastic in them unless the bag says there is PLA (corn-based polylactic acid). A plastic barrier on a paper bag, of course, also makes the bag non-recyclable as well as non-compostable.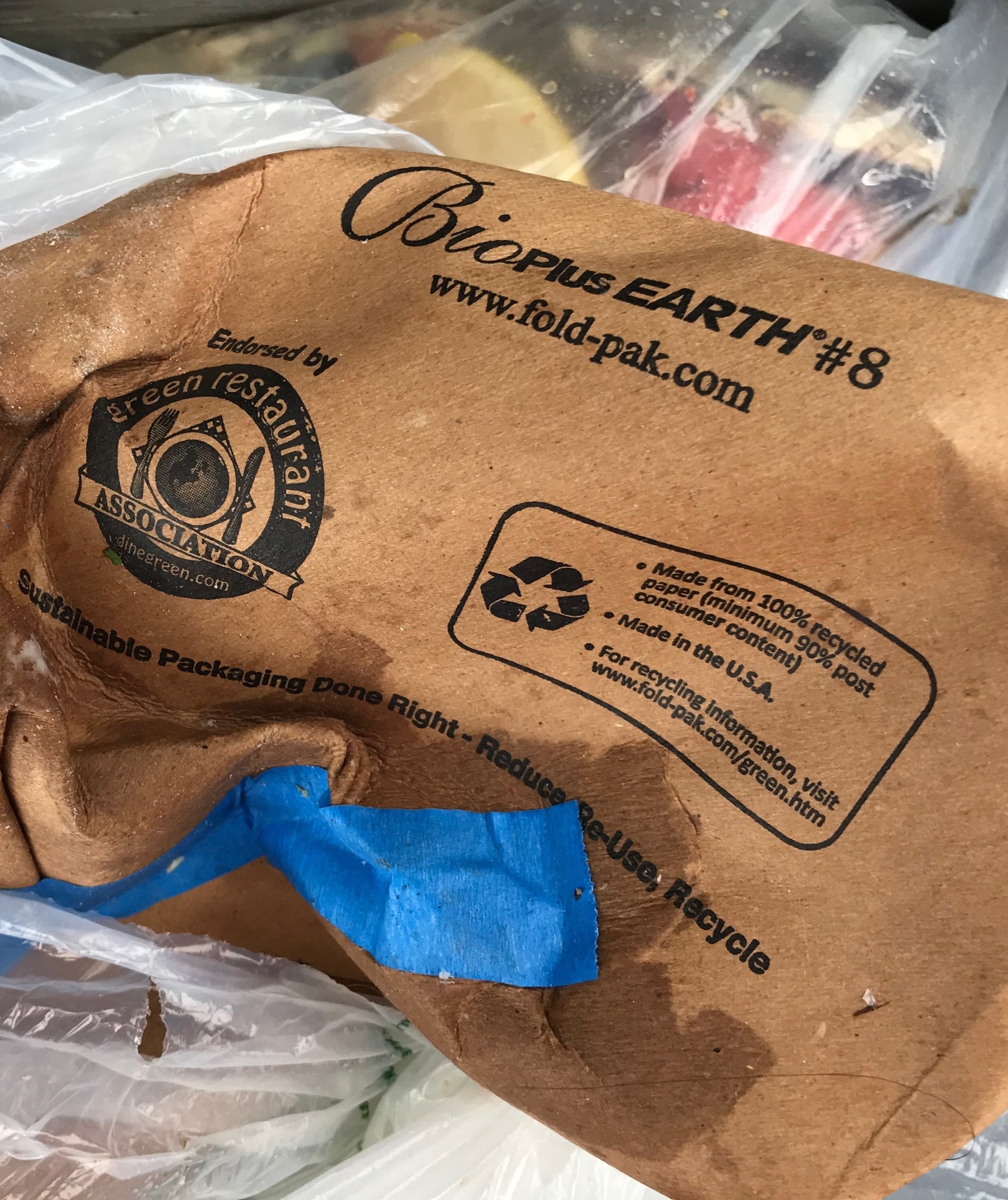 BioPlus Earth vs. BioPlus Terra (and other t0-go boxes)
It's hopefully pretty clear by now that when it comes to manufactured products, it is NOT always easy to tell what's compostable! These takeout containers are no exception. A lot of our friends and customers use this kind of container pictured at left - the BioPlus Earth line from FoldPak. Unfortunately, while this package is made from recycled paper, it ALSO has a spray-on poly (petroleum-based) lining inside. The website description does not mention this coating - only the recycled paper. Of course, because the paper is blended with this plastic lining, this line of takeout packaging is not recyclable, either.
Its sister however, the BioPlus Terra II line, is in fact certified compostable! YAY!
Another common takeout container brand we see is EcoSource. You can see here that much like the BioPlus Earth, the boxes from EcoSource are not compostable. While they're made from recycled fiber content, they're also sprayed with a poly coating - also making them neither recyclable nor compostable. You'll see that their sugarcane-based line, however, is in fact compostable!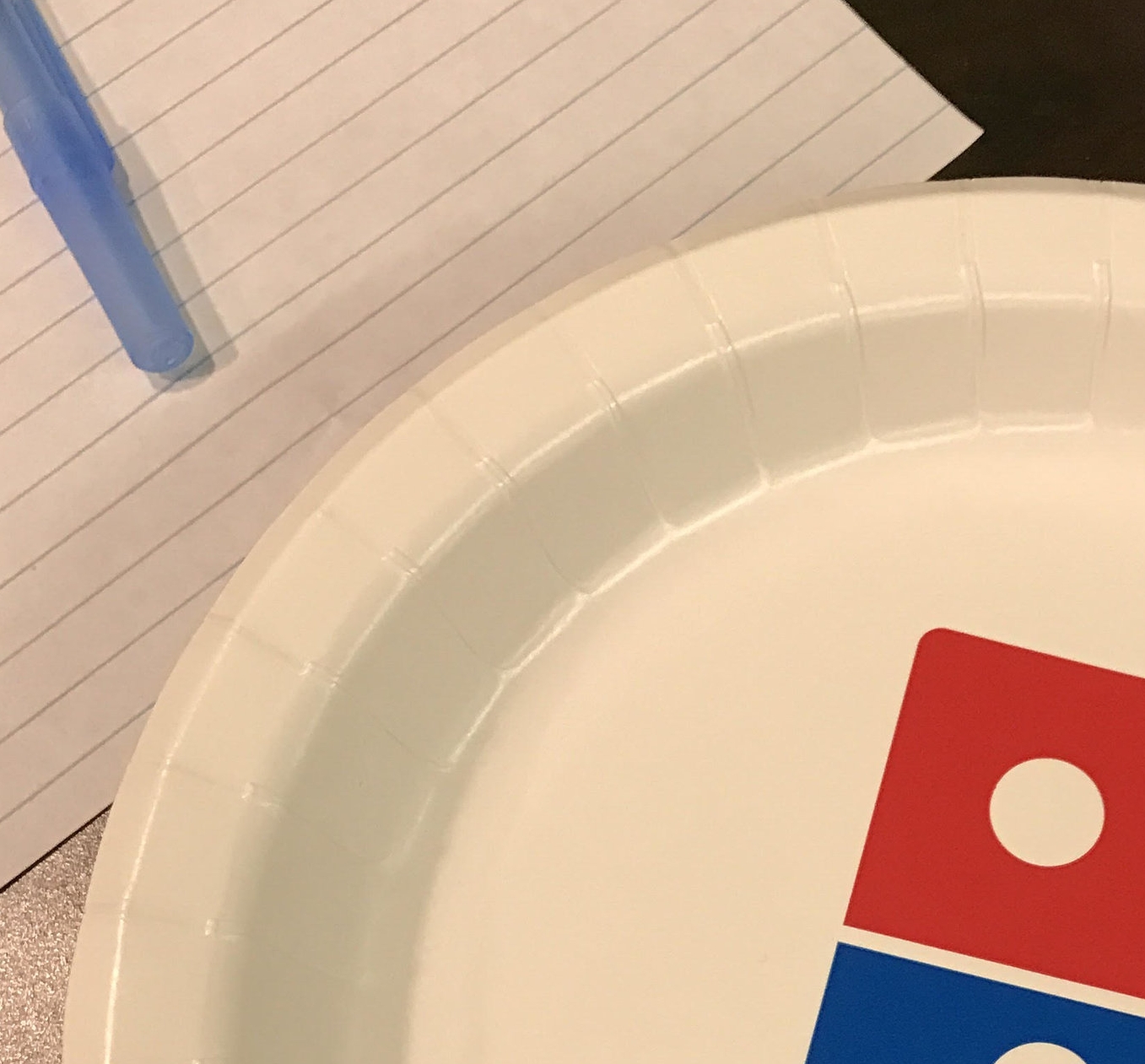 Can you compost that paper plate?
Unless your paper plate is certified compostable through BPI, don't gamble on composting it with us. The only paper food service products that we accept that aren't certified compostable are napkins, paper straws, pizza boxes and pressed fiber "Chinet"-style paper plates.
While regular paper plates (like the one pictured here) and nacho trays usually aren't plastic-coated (they are actually either burnished paper or clay-coated), often times if the manufacturer runs out of the usual stock, they'll switch to plastic-coated stock.
Do the earth a favor: choose certified compostable disposable plates!
new! (almost) compostable stand-up pouch
If you've purchased any Alter Eco heirloom quinoa lately, you may have seen this "Gone4Good Compostable Package" claim at the base of the bag. Look a little closer, however, and you'll see that the third-party certification is still in progress - which means these bags are NOT yet certified compostable. There's some good progress though: the website claims that as per ASTM D6400 - which is the specification regarding whether a plastic-like material can be composted in a commercial facility, developed by the American Society for Testing Materials - the bag is compostable.
But DON'T ever toss it in your backyard pile, and don't compost it with Scraps just yet - let's wait for that third-party certification to verify the manufacturer's claims. And with all of the products using stand-up pouches these days, this sounds like it could be a huge breakthrough - fingers crossed!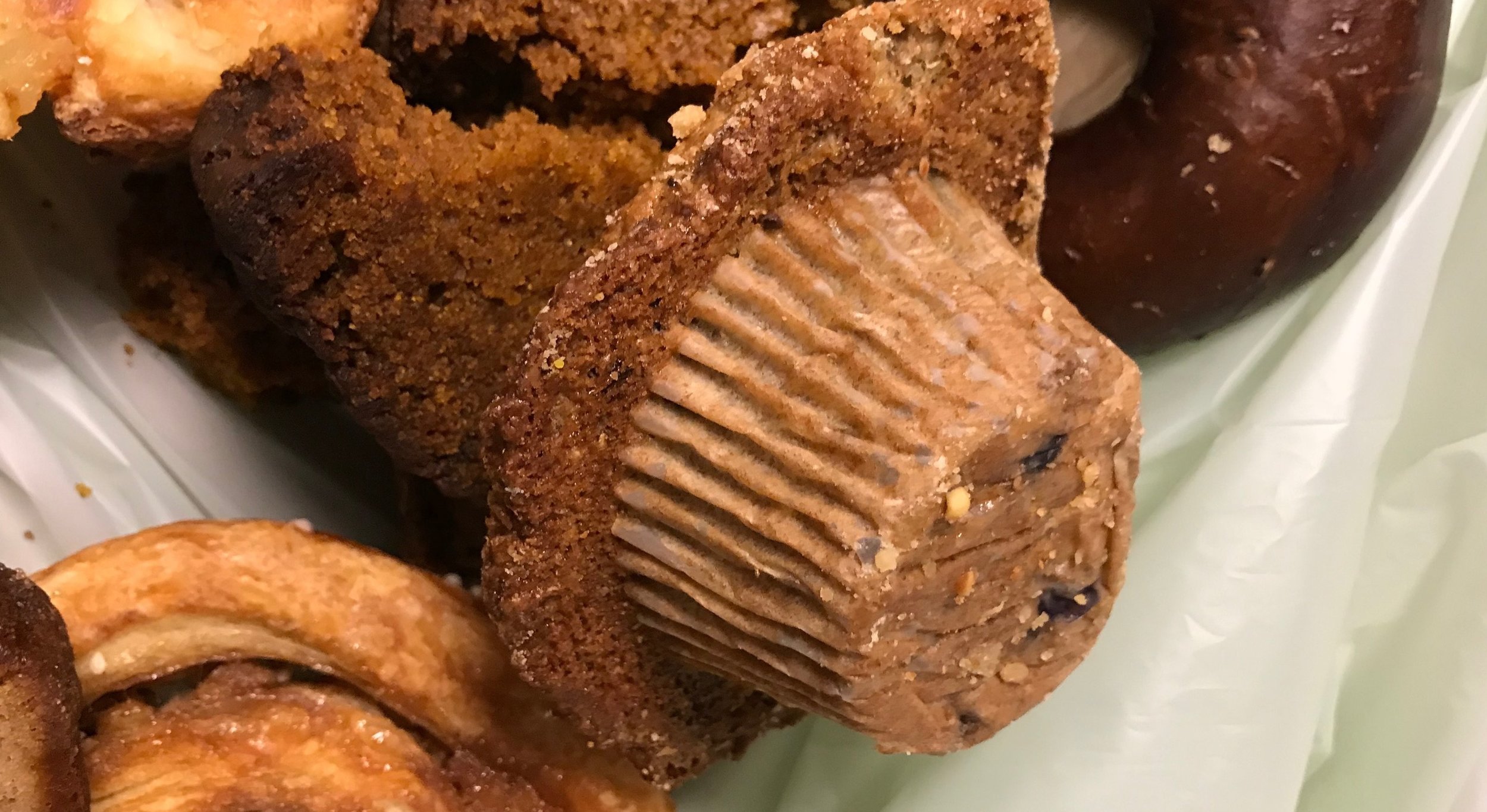 These little paper wrappers fall into that annoyingly vast category of deli papers, parchment papers and other not-quite-standardized types of paper used for cooking, baking and wrapping food. It's not always easy to know what paper like this is made from. However, with muffin wrappers like the one pictured here, since grease/moisture do soak through, we'll take them to be composted. As we mentioned above, that's a handy although not bulletproof test for determining whether something is compostable.
Some things to know:
- Some parchment paper may have silicone applied to it, to make it non-stick as well as impermeable. We'll accept it to be composted anyway.
- Parchment paper is NOT the same as wax paper. Wax paper has, as you may imagine, a wax coating (and the paper itself is treated differently as well). It's generally a paraffin wax, which is petroleum-based.
- You can't compost wax paper, unless you know it's the kind made from soy-based wax. Two products that we know of: this paper by EcoCraft, and this one by If You Care.
looking for compostable disposables?
we recommend our friends at World Centric, purveyor of 100 percent compostable items.
World Centric is also a responsible business - a certified B Corp!
you can also contact Lisa:
lisam at worldcentric dot org
to navigate back to our full page of compostables: